Polestar Colchester workers could be made redundant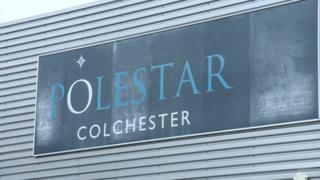 Dozens of jobs could be lost at a printing firm in Essex set to close on Christmas Eve.
Polestar is negotiating with staff who work at its Colchester site and is considering shutting down on 24 December.
Human Resources director Simon Jones said the 57 jobs under threat were "mostly full-time" positions.
"We will look at redeploying staff elsewhere as part of our negotiations" he told the BBC.
Mr Jones did not confirm whether the possible redundancies would mean the firm would no longer have a presence in Colchester, or how many people are employed at the site.
Polestar, which also has bases in Bedfordshire, Bicester, Wakefield and Leeds, describes itself as "Europe's largest independent print company".
It produces many UK newspaper colour supplements and magazines, such as Hello, Cosmopolitan, Top Gear, Closer and Kerrang.
Liberal Democrat MP for Colchester, Sir Bob Russell, has called for a debate about the proposed job losses.
Speaking in the House of Commons on Thursday, he said he wanted to talk about "spare capacity in printing jobs - not helped when British companies such as BT print all their directories overseas."