Royal protection police office denies assaulting fare dodger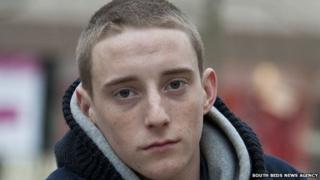 A Royal Protection Unit police officer was recorded on CCTV pushing a fare dodger against a train window and sitting on him, a court has heard.
PC Mark Schleich, 51, from Essex, denies assaulting Charlie Simkins.
PC Schleich, appearing at Luton Crown Court, also denies perverting the course of justice by falsely claiming Mr Simkins assaulted him.
The alleged offences occurred while the officer was on a train as he headed to Buckingham Palace in June last year.
Mr Simkins, 20, had been caught by two ticket inspectors, the court was told.
Prosecutor Patricia May said Mr Simkins had been convicted two years ago for a public order offence and assault on a police officer.
But she said he had not assaulted PC Schleich.
'All of his body'
Mr Simkins had given false information to the ticket inspectors, she said.
PC Schleich, who was in plain clothes, grabbed him and pushed him against the train window.
He then put him down on the train seat and sat on him, the court was told.
PC Schleich claimed Mr Simkins had pushed him hard in the chest and swung a punch at him.
Mr Simkins was later charged with being on a train without intending to pay, giving false particulars and assaulting a police officer. He admitted the first two offences, but denied assault.
Mrs May said when the Crown Prosecution Service (CPS) examined CCTV footage it decided not to proceed with the assault charge. Instead PC Schleich was charged.
Giving evidence, Mr Simkins said: "He was just restraining me - all of his body was on me. One foot may have been on the floor, the rest of his weight was on me."
The case continues.