'Twelve years a stray' Braintree cat returned to owner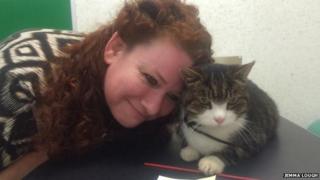 A cat which was missing for more than a decade has been reunited with its owner.
Jemma Lough's pet Toby vanished from her former home in Braintree, Essex, in 2002. He was found less than two miles from the property in September.
He was thought to be a stray, but when a vet scanned his microchip his owner's contact details were revealed.
"It was a bit of a shock, I couldn't believe the phone call. I've never had anything like it," said Mrs Lough.
"When I took the call initially, I was shaking. There were a lot of tears when I first went to see him, it was overwhelming."
Toby, now 16, was taken to Mrs Lough's new home in Yaxley, Cambridgeshire to be reunited with his mother, Jackie, 18.
"He walked over and licked his mum's head when he saw her again for the first time," Mrs Lough recalled.
It is unclear where Toby had been for the last 12 years, but for a few months he had been living at a drug and alcohol rehabilitation centre close to Mrs Lough's former home.
He was taken to the vet by a member of staff "who'd noticed how old he looked".
"She thought he should have a home for the winter, so she took him to the vet," Mrs Lough told BBC Essex.
"He was being very well looked after. The vets checked him over and we went down two days later and picked him up."
Mrs Lough said she kept her name and address details updated on Toby's microchip after he vanished, which enabled the vet to track her down.
"I wish he could tell me where he's been. His feet which were white are a little bit grey, so you can tell he's been living outside," she said.
"For me, it's like he's the same cat. He looks a bit older, but he's got the same personality."