Monitor to probe Basildon and Thurrock NHS Trust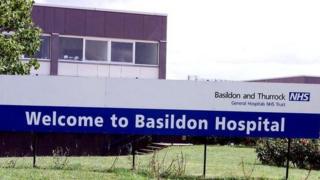 A health service watchdog has launched an investigation into the finances of an Essex hospital trust.
Monitor is looking into the finances of Basildon and Thurrock University Hospitals NHS Foundation Trust, "on behalf of patients", it said.
Monitor is concerned about this year's predicted deficit of £14.2m because it is larger than previously expected.
The trust was removed from special measures in June after the quality of its health services improved.
Monitor was told about the loss when a revised deficit plan was submitted in November and will now seek to find out why finances have deteriorated and what can be done to fix them.
'No surprise'
Laura Mills, deputy regional director at Monitor, said: "Basildon and Thurrock has made great progress in improving its services for patients, but it appears to be struggling financially.
"We want to find out why the trust's finances are deteriorating and ensure its leadership is taking appropriate action to address this challenge.
"Monitor will announce the outcome of its investigation, and whether any regulatory action is needed, in due course."
Clare Panniker, the hospital trust's chief executive, said: "We look forward to working closely with Monitor on our plan to tackle our deficit.
"This has not come as a surprise to us and we are already well under way with the work which we believe will address our current position.
"Our focus over the past two years has been on improving the quality of care we deliver to our patients - we took the decision that safety had to be our number one priority.
"The challenge for the NHS as a whole is to look at different ways of working to make it more efficient while at the same time not affecting the quality of care," she said.