Chelmsford Marconi radio factory 'should be museum'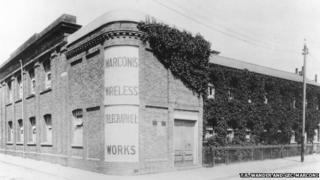 A building which used to be home to the world's first wireless factory should be turned into a museum rather than flats, critics have said.
The Old Silk Mill building in Hall Street, Chelmsford, was the first to be opened by radio pioneer Guglielmo Marconi in 1898.
Plans have been put in to convert the site, which has been empty since 2010, into apartments and a commercial space.
But the development is being opposed by some local history enthusiasts.
Chris Neale, from the Marconi heritage group, said he would rather the building be used as a community space, to display information about the city's Marconi history and for educational activities.
"Our concern is that this is the only industrial building left in Chelmsford which hasn't been converted into something other than what it was used for," Mr Neale said.
In 2012, developer Bellway bought a former Marconi factory site in New Street, which had fallen into disrepair.
Plans to convert the Hall Street building have been put forward by Arcady Architects.
The firm's owner, John Crisp, said his client's plans were very "sympathetic" to the building's original design.
"They want to reinstate the sign-writing on the outside of the building, and put some Morse code on it," he said.
Mr Crisp said he wanted to see the site brought back into use as soon as possible.
"It's either going to sit there in its current form, waiting for something to happen.
"Or we can move forward now, with a balanced scheme, with some of it being apartments.
"We can refurbish the building and reinstate original features, and that will complete the development," he said.
Chelmsford City Council will meet to discuss the plans next week.