Colchester Hospital patients treated without 'dignity'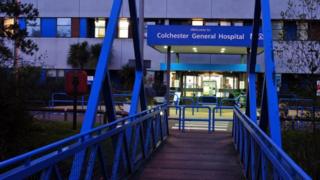 A hospital inspection found some patients were being treated without "dignity and respect", it has emerged.
Prof Sir Mike Richards wrote to Colchester Hospital's chief executive with "significant concerns" about its emergency departments.
Care Quality Commission (CQC) inspectors also found some patients were restrained without proper consent.
Following the inspection, the hospital declared a 13-day "major incident".
The unannounced CQC visit took place on 12 November.
'Low morale'
In his letter, the CQC's Chief Inspector of Hospitals, Sir Mike wrote: "We witnessed times when patients were not treated with dignity and respect.
"These included insufficient use of curtains and covers in A&E and negative or abrupt manners."
"Morale amongst staff was generally low," Sir Mike wrote.
"We noted staffing arrangements were not always sufficient to meet the needs of patients… We observed staff were not adhering consistently to infection control requirements."
The CQC has asked for assurances from the Colchester Hospital University Trust about unacceptable standards of leadership in Accident and Emergency, and the Emergency Assessment Unit (EAU).
"On the EAU we had significant concerns about how decisions on attempting resuscitation of a patient on the unit were managed," Sir Mike wrote.
The hospital is already in special measures but the CQC is now considering further enforcement action.
Earlier this week, Colchester Hospital University NHS Foundation Trust, said it was trying to reduce the level of fines imposed by the North East Essex Clinical Commissioning Group for failing to meet waiting time targets.
Dr Lucy Moore, the trust's chief executive, said: "It was clear that at the time of the Care Quality Commission visit that our staff, particularly in the emergency department and the emergency assessment unit, were under serious pressure.
"Pressure in the hospital has now been reduced, not least because people are considering carefully whether they really need to come to the emergency department."