Emaciated horse found dumped in park in Essex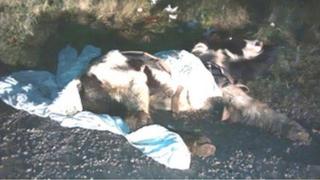 An emaciated horse found collapsed in an Essex park had to be put down because it was in so much pain, the RSPCA has said.
The mare was found by a member of the public lying in a road at Wick Country Park in Wickford on the night of 7 December.
RSPCA inspector Emily Cheeseman said the "poor mare was all bones".
The animal charity is appealing for information in a bid to track down the person responsible.
'Extreme pain'
Ms Cheeseman said: "I am used to coming across so many terrible equine cases in my job, but this really was one of the worst I had ever seen.
"It was bitterly cold that night too - she must have been so uncomfortable.
"She collapsed when the member of the public who called us was with her, and then just could not get up again.
"The vet who attended said her heart was rocketing, a sign that she was in extreme pain."