Harlow travellers served with public health orders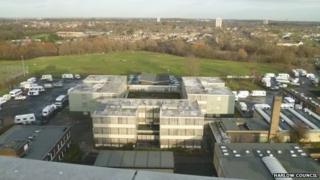 Travellers at an illegal encampment have been served with a public health notice amid concerns over human waste and rubbish dumped at the site.
Harlow Council has issued the notice to 24 people at the former Passmores School site in the Essex new town.
The council said if travellers failed to comply with the notice it could take formal action.
The local authority said it was also a response to complaints about noise of generators, disc cutters and music.
Harlow has seen 68 unauthorised sites set up in the last year.
The Conservative MP for Harlow, Robert Halfon, has criticised police and councils claiming they were not dealing with the issue effectively.
Councillor Jon Clempner, Labour leader of Harlow Council, said: "In exploring every legal avenue in recent months we have taken the decision to start the process of recovering clean-up costs and taking action through the courts when we can.
"I appreciate the community's frustration with the whole situation.
"We will continue to ask the police to consider using their powers available and urge the government to change the law to enable the council to stop the 'cat and mouse' movements of the travellers from one site in Harlow to another."