Essex backpacker Cheznye Emmons' family plea for £20,000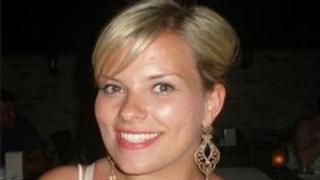 Family and friends of a 23-year-old Essex backpacker fatally poisoned in Indonesia aim to put warning posters in doctor's surgeries about fake alcohol.
Cheznye Emmons, of Great Wakering, died when travelling in Indonesia in 2013.
She suffered sudden blindness and convulsions after drinking spirit laced with methanol and died five days later.
Her father Brenton Emmons said thousands of travellers had died after drinking bootleg spirit in resorts and needs £20,000 to distribute warnings.
Ms Emmons was on a six-month trip around Thailand, Indonesia and Malaysia and was staying in Bukit Lawang, northern Sumatra, in April 2013 when she fell ill, he said.
Others in her group also reported feeling ill after the drink with a seemingly legitimate label.
The Emmons set up their Save a Life Campaign soon after her death and have had 20,000 warning posters printed.
Dangers of bootleg alcohol
They now need more funds to distribute them to every doctor's surgery in England.
Mr Emmons said methanol was often mixed with spirits and wine in the areas where Miss Emmons had been travelling.
"We're putting the posters in surgeries because that's where travellers go to get their inoculations.
"We want to reach them before they set out."
The fake spirit is difficult to spot so the best advice is to stick to beer, he said.
Advice issued by the Foreign and Commonwealth Office is to take extreme care when purchasing spirits.