Southend and Thurrock councils consider combined authority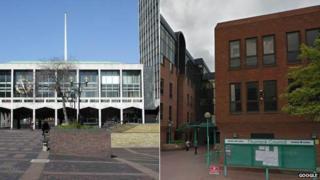 Joining forces to create a partnership could "boost the economy and improve transport", two councils have said.
Southend and Thurrock borough councils in Essex are considering joining forces to create a "combined authority".
Rather than merging the two councils, the authority would have the power to bid for more powers from central government.
The idea will be discussed at a Southend Council meeting on Tuesday.
A "combined authority" was first tested in Manchester, where 10 councils came together to form the Greater Manchester Combined Authority in 2011.
'Stronger voice'
Ron Woodley, leader of Southend council, said: "We have seen in the north of England how combined authorities can act as a real driver for jobs and improved transport links, acting as a stronger voice for more investment and powers to deliver change locally.
"Our ambition would be to deliver transport and economic policy more effectively over a wider area."
The government is currently consulting on proposed changes which would allow non-neighbouring councils - such as Southend and Thurrock - to form a partnership.