Pupils' 'inappropriate' Skype and Snapchat images investigated by police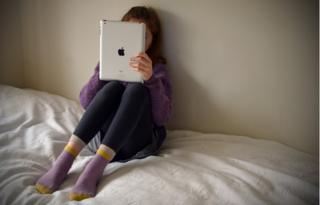 Police are investigating reports of "inappropriate" Skype and Snapchat images found on iPads issued to pupils by an Essex school.
Essex Police said three offences had been reported at Honywood Community Science School in Coggeshall.
The school's head teacher said one of its pupils was coerced into sending "inappropriate images".
"We were able to intervene before any physical harm came to the youngster concerned," Simon Mason told parents.
The school provides each of its students, who are aged 11 to 16, with an iPad to promote independent learning and "empower [them] with new technology".
Mr Mason said he was "extremely concerned" that a Skype conversation had been able to take place during school lessons, despite a block placed on the app.
In a letter to parents, he said a "new protocol regarding upgrading devices" had been introduced to try to prevent a repeat of the breach.
Guidance is issued to all pupils about the risks of befriending people via the internet and how to be safe online.
Mr Mason said one "learner" ignored the guidance and had been "coerced into sending inappropriate images to someone whose only rationale for 'meeting' the learner on line was to exploit them".
"We will act vigorously in the weeks and months ahead to support this young person and help them to learn from their mistakes," Mr Mason wrote.
The school also investigated reports of an "inappropriate picture" found on two pupils' Snapchat accounts. Police have been contacted about the incident by the pupils' families.
Parents have been advised to frequently talk to their children about internet usage.
An Essex Police spokeswoman said officers from the force's Online Investigation Team would be talking to school staff and pupils to establish if further incidents had occurred.