'Rejuvenated' Holland-on-Sea beaches set to reopen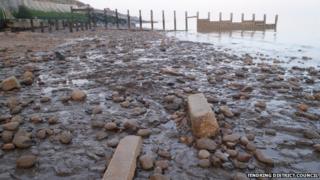 Beaches which have been "recharged and rejuvenated" as part of the first phase of a £36m coastal protection scheme are due to reopen to the public.
The beaches at Holland-on-Sea, Essex, were shut for safety reasons while coastal defence work was carried out.
Most of the area can be accessed now the first part of the scheme is complete.
A Tendring District councillor said people would "not be disappointed" with the quality of the beaches.
"We have had fantastic feedback from people who are amazed at the state of the beaches - especially in comparison to what was there before," said cabinet member for environment and protection, Nick Turner.
Work on the coastal defence scheme began last year and will see 1m tonnes of sand and shingle, dredged from a licensed offshore site, placed on beaches between Clacton Pier and Holland Haven.
The project is designed to protect 3,000 homes and businesses for 100 years.
A Tendring District Council spokesman said further minor projects would be going on at the beaches over the next two months but general access would be available.