Jay Whiston murder prompts Essex knife amnesty bins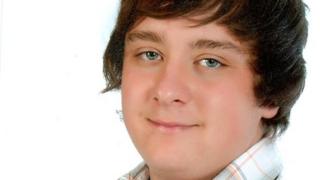 A woman whose son was stabbed to death at a party has successfully campaigned for knife amnesty bins to be set up in his memory.
The Only Cowards Carry campaign was prompted by the murder of Jay Whiston, 17, in 2012.
Specially-designed bins will be set up in Clacton, where Jay lived, and Colchester, where he died.
His killer, 18-year-old Edward Redman, is serving a life term in prison.
Redman was ordered to serve a minimum tariff of 17 years, when he was convicted last May.
The amnesty campaign has been supported by Essex Police, the county's police commissioner and local authorities.
'Tackle the evil'
Jay's mother Caroline Shearer said it was "essential we continue to do everything we can to tackle the evil of knife crime".
"We're working to see if we can spread the knife amnesty initiative to other parts of Essex to help keep our streets safe," she said.
Mrs Shearer founded the charity a few months after Jay's death, to teach young people about the "devastating, life-changing, true reality of knife crime".
Essex's chief constable Stephen Kavanagh, said he had "nothing but praise for all the efforts that Caroline has put in to help get these bins".
"The harm that knife crime causes to our communities in Essex as a whole, and the devastation it can cause to families affected by it, is something that I am determined we will deal with," he said.
Anyone who wants to surrender a knife has been asked to wrap it up fully and place it in a secure container before bringing it to the bins, which have been provided free of charge by the British Ironwork Centre.