Train struck by overhead wires near Rayleigh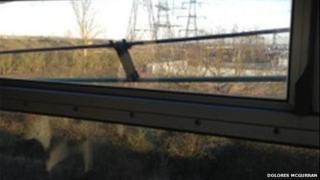 A train has been forced to stop after it was struck by overhead wires.
The train was travelling between London and Southend when it ground to a halt near Rayleigh, at about 08:20 GMT.
Passenger Dolores McGurran said: "We saw some cables fall down and there was some loud crashing. It was really shocking."
Network Rail said the arm of the train that draws electricity had been damaged and repairs were being carried out. Some services have been cancelled.
Steve Cassidy, Network Rail's area director, said about a mile of overhead line had come down.
"If you've got a failure in the overhead line system, the train essentially pulls it down until it comes to a stand," he said. "Because it's on a curve it makes it difficult to put it back together again."
Mr Cassidy said repair work could continue into Tuesday and advised people to avoid the area if possible.
Ms McGurran said the train had been "almost filled" with students going to college.
"We're a bit shook up but are fine," she told the BBC, shortly after the incident. "No-one was hurt.
"The train has tilted to one side, which is really horrible."
Passengers were escorted on to another train at about 09:20.
Abellio Greater Anglia said there had been cancellations to services between London Liverpool Street and Southend Victoria "due to damage to the overhead electric wires at Rayleigh".