Douglas Carswell's 'Hello Kitty' tweet causes confusion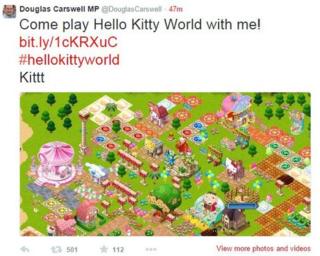 A UKIP MP caused confusion on Twitter telling followers: "Come play Hello Kitty World with me".
Clacton MP Douglas Carswell's message, apparently posted by his young daughter, went to his 28,000 followers and was retweeted hundreds of times.
An hour later, a further tweet stated: "That's the last time I leave the five year old in charge of the iPad".
Respondents included the Conservatives - his former party - which replied "No thanks" to the offer.
His initial tweet - which included a screenshot of the game - prompted replies from other users of the social network, questioning why he had posted the message or whether his account had been hacked.
Mr Carswell later responded to political blogger Guido Fawkes, confirming the first message had been posted by his child.
The original tweet has not been removed from the social network.
Last year, a similar message was posted from Mr Carswell's Twitter account, also inviting his followers to play Hello Kitty World.