Red squirrel breeding hope for Mersea Island project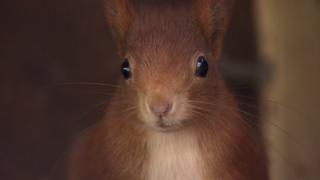 Organisers of a project to bring red squirrels to an Essex island are hoping the animals will soon start to breed.
Twenty squirrels have been released into the wild on Mersea Island since 2012, following a repopulation programme across East Anglia.
The island was chosen for re-colonisation as it has no grey squirrels, which can pass a fatal disease to their red relations.
Residents said sightings of the animals were "really quite encouraging".
The animals, which are born in captivity, have been gradually been brought to the island and released.
"It's a nerve-wracking day when we release them and say 'go forth and multiply'," said conservationist and island resident Sue Taylor.
"We're hoping they have multiplied. We haven't seen any baby squirrels yet, but we have seen squirrels returning to the cages 18 months later."
Mrs Taylor said the programme would continue to introduce new squirrels until the population reached "that critical number" and could be self-sustaining.
Dougal Urquhart, who manages Cudmore Grove Country Park on Mersea Island, said the breeding programme had "captured the imagination" of many islanders.
"It's very exciting. We get lots of visitors asking about them, and lots of local people have started putting out feeders," he told the BBC.