Southend Hospital hand grenade was live, police say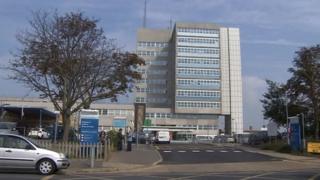 It has been confirmed a hand grenade, whose discovery at a hospital led to wards being evacuated, was still live.
Southend Hospital in Essex said the "suspect package" was spotted in the heart and chest clinic on Wednesday afternoon.
Several wards were evacuated but people were later allowed to return.
An Army bomb disposal team took the grenade away for testing. Essex Police said they believed it was a 1940s grenade.
A member of staff found the package on the first floor of a tower block, at about 15:45 GMT.
Officers are continuing to investigate how it came to be in the building and how dangerous it was.
Ch Insp Simon Anslow said: "There is no indication this was a malicious attack against the hospital or anyone working or being treated there.
"I would like to thank staff, patients and visitors at the hospital for their co-operation yesterday, in what was a fast-moving situation.
"Once the grenade was made safe and taken away, we made sure there were no other items of concern in the area before the hospital was re-opened."