Towie-backed Essex Smiles owners fined for 'unlawful' practice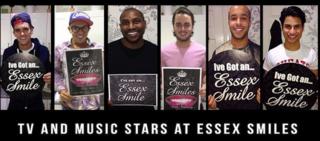 A mother and son who run a tooth-whitening company backed by The Only Way is Essex stars have been convicted of running the practice unlawfully.
Joanne Wheatley, 43, and Cane Wheatley, 23, operate Essex Smiles in Harlow.
The General Dental Council (GDC) prosecuted them for not being registered as dentists or dental professionals, a charge they denied.
But Chelmsford magistrates found them guilty, fined them a total of £1,000 and ordered them to pay £3,800 costs.
The Wheatleys were also told to pay victim surcharges totalling £200.
'Heads held high'
During their trial, which started in November, the court heard they were charged after undercover investigators posed as potential customers, in response to complaints that were made to the GDC about the firm.
Tooth-whitening can only be legally performed by dentists, dental therapists, dental hygienists and clinical dental technicians.
On social media and its website, the firm has posted photos of a number of "celebrity clients", including cast members from the reality TV shows The Only Way is Essex (Towie) and Geordie Shore.
The company offers a White Smile for £40, a Hollywood Smile for £50 and the Essex Smile at £60.
On its Twitter account, Essex Smiles posted to say: "We took a lost in court... for a old video of a old way of whitening we don't use any more but heads are held high".
The company is yet to respond to the BBC's request for a comment.