Prince of Wales' 1919 love letter doubles reserve auction price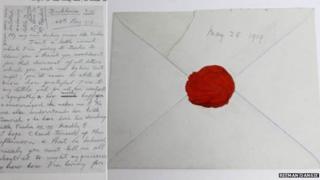 A handwritten love letter from the Prince of Wales, later King Edward VIII, has sold at auction for more than double its reserve price.
The item was part of a collection belonging to a royal memorabilia aficionado, Jim Hanson.
The 1919 letter written by Edward VIII to his married mistress Freda Dudley Ward sold for £1,100 at Reeman Dansie auction house in Colchester, Essex.
A signed photograph of Princess Diana sold for £5,000.
Mr Hanson's collection also included items of Queen Victoria's stationery, tickets to her coronation and letters she had written to correspondents.
'Adoring David'
He had amassed the items over many years, and they brought him "enjoyment and pleasure" before his recent death, the auction house said.
The letter from Edward VIII to his mistress was dated 28 May 1919, and was signed: "Your very own devoted and adoring little David".
At the time it was written, Edward was the Prince of Wales, and Mrs Dudley Ward was married to William Dudley Ward, an MP.
Edward became king in 1936 and was on the throne for 11 months before abdicating because of his relationship with Wallis Simpson, a divorced American socialite.
Another item in Mr Hanson's collection was a "signed black and white portrait photograph of a relaxed Diana", the auction house said.
The guide price of the item, which came with a silver engraved frame, was between £3,000 and £3,500.
Reeman Dansie's managing director James Grinter, said he was "delighted" with the results of the auction, which received "worldwide interest".