Motocross champion fights to keep Benfleet 'Action Park' open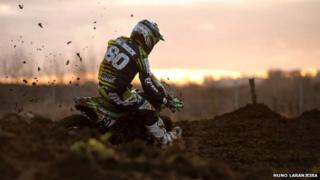 An "action park" used by a young motocross champion could be shut down because it has been running without planning permission for seven years.
Off Road Action Park, near Benfleet in Essex, is run as an outdoor activity centre for children and adults.
Basildon Borough Council said the site was on green belt land and it had taken legal action to try to close the park.
Teenage motocross rider Dylan Woodcock said closing the centre would force him and others to "ride on the streets".
The 15-year-old, who has been riding at the site for a number of years, is hoping to turn professional and will compete in the United States in the coming weeks.
Over the last few years, Dylan has won three indoor British championships and came 12th in the world championship in 2014.
"It would be a sad story to close it down, because thousands of kids come up here every year from all different parts of the country to ride," he said.
Dylan's grandmother, Lynda Woodcock, said the children who use the motocross track would be "devastated" to see it close.
The park's operator, Phil McCaul, said although the site had never acquired planning permission, Basildon Council was "fine with it".
He said he was aware there was a problem with noise when the wind blew in certain directions, but he had offered solutions to mitigate the issue.
"At the end of the day, we're an outdoor activity centre," Mr McCaul said. "These activities have to be outdoors, on the green belt,"
Phil Turner, Basildon Council's leader, said the site was "challenging some of the conditions on the land, and that land is green belt".
"We will work with the owners to try to close it down amicably and without fuss, or cost to them or us, because that's in nobody's interest," he told BBC Essex.