Game of Thrones: Basildon Dogs Trust sees rise in abandoned 'wolf dogs'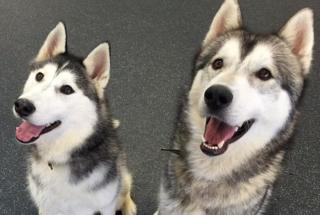 A "significant amount" of abandoned huskies and other wolf-like dogs are ending up in care as many new owners are "ill-equipped" to cope with the breed, the Dogs Trust has said.
Interest in the wolf-like species has been linked by the charity to series like Twilight and Game of Thrones.
The trust's Basildon centre has taken in 35 arctic working dogs in the last two months.
The breeds now account for 10% of all dogs coming to the centre.
Nationally the Dogs Trust has received 132 Siberian huskies, Alaskan malamutes and Japanese akitas since the start of the year. It now fears the "souvenir" addition to fans' homes could see the breeds become "status dogs".
"They are gorgeous puppies, really, really fluffy - but are very hard work," said Jake Flatman from the trust.
In the cult HBO series Northern Inuit dogs play the role of dire wolves which resemble a cross between a German shepherd and malamute.
"People have to be committed to their training and exercises. [Huskies] are not a dog you can take for a quick 20 minutes around the block and get back in the house to lie on the sofa," said Mr Flatman.
Debbie Neal, who recently adopted a dog from the trust, said "some people don't realise how hard it is" to own a dog.
"Some people don't realise the commitment it takes, I think there should be some form and vetting and people should be made more aware before they buy these dogs at to what it takes to look after them."
Lynn Barber, a training and behavioural advisor with the trust, added the dogs need owners who "know the breed" as they are "large and powerful" and "sadly we are seeing many of these doings being abandoned when they become too much for their owners."