Gizmo the foal helped after 'overwhelming' appeal response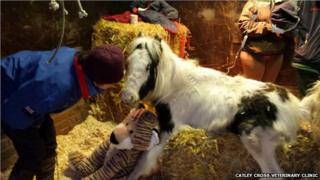 A foal found abandoned on a roadside in Essex is being nursed back to health after an "overwhelming" response to an appeal for donations.
The four-month-old piebald cob - named Gizmo - was found in an "emaciated state" near to a caravan park in Yeldham Road, Halstead on Tuesday.
The RSPCA has since raised £7,600 so the foal can receive specialist care.
A charity spokesman said the animal was still "poorly" but the money would "go a long way to helping" its recovery.
"The money that has been donated shows just how much people care about the situation and will go a long way to helping Gizmo recover," said the spokesman.
"He is still in a very poorly state so it's too early to talk about him being rehomed. But fingers crossed, he will have a better life than he has had until now."
Gizmo, whose treatment is costing £500 a day, is being cared for the Catley Cross Veterinary Clinic, near Wickham St Paul, Essex.
A spokesman for the clinic said Gizmo was taking "a few steps in the right direction".
"Whilst he is not out of the woods yet, he is still trying," the spokesman said.
The RSPCA, which described the response to a fundraising appeal as "overwhelming", said Gizmo was "emaciated" and had been "left to die" by the side of the road.
"He was so weak he was just collapsed and couldn't stand," said RSPCA inspector Sarah Elmy.
The charity said it hoped to raise £11,000 to pay for the care and the rehoming of Gizmo.