Rayleigh 'appalling' acid attack case on BBC Crimewatch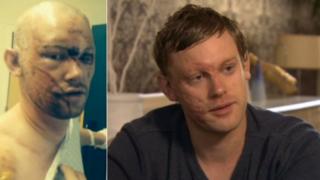 A renewed appeal to find those responsible for an "appalling" acid attack on a father-of-two is to be screened on BBC One's Crimewatch.
Darren Pidgeon, 27, from Rayleigh, Essex, had the corrosive liquid sprayed in his face, on 3 June last year.
He was driving in Thundersley when a man got out of the car behind him and subjected him to the "unprovoked attack".
Essex Police is still trying to identify and find those responsible.
The force is looking for a man aged in his 30s suspected of being involved in the attack. At the time of the incident, he was wearing a light-grey polo shirt, blue denim jeans and a dark hoodie.
Mr Pidgeon has undergone skin grafts to replace the burnt skin on his shoulder and neck from where he tried to protect himself during the attack.
"They've done damage to me. They took things that I can't get back," he said of his attackers.
Investigating officer Det Sgt Mike Calvert said: "This was an unprovoked attack which has caused appalling injuries to the victim."
Police initially thought the incident happened after a "roadside altercation" at Rayleigh Weir roundabout a short time earlier, but subsequent inquiries have ruled the theory out.
BBC Crimewatch is broadcast on BBC One at 21:00 GMT.