Chelmsford Yak-52 plane crash cause 'unknown'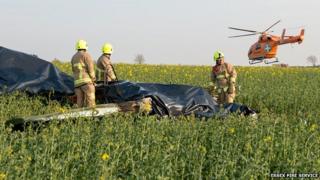 Investigators have been unable to determine why a monoplane with a British Airways pilot at the controls was flying so low before it crashed.
Andrew Sully and passenger Simon Chamberlain died when the plane crashed in a field near Chelmsford last March.
The Air Accidents Investigation Branch (AAIB) said the plane was spotted flying low before it "climbed sharply and entered a stall or spin".
The plane "did not recover" and plummeted to the ground, a report said.
Mr Sully, 50, a father-of-three from Writtle, Essex, was a first officer with British Airways and a former RAF pilot.
The AAIB said he had not arranged to take anyone with him in his co-owned Yak-52 aircraft when he arrived for a flight at North Weald Airfield, on 29 March 2014.
But he met the airfield museum's secretary Mr Chamberlain, a 29-year-old father-of-one from Harlow, at the site and offered him the chance to be a passenger, it added.
Five minutes into the mid-afternoon flight the aircraft was spotted flying at low level.
'Severe' fire
The report said: "Having carried out a level turn, the aircraft climbed sharply and entered a stall or spin, from which it did not recover before striking the ground.
"The reason the aircraft was flying at low level and the cause of the final manoeuvre could not be determined."
It added that passers-by reached the crash site quickly, but could not approach the plane because of a severe post-crash fire.
The engine was said to be running when the plane crashed, but the possibility of a significant loss of power could not be discounted as the investigation was hampered by components being destroyed in the blaze.
Mr Sully had tutored pilots in the Yak-52 and passed a skills test in 2013, carrying out aerobatic manoeuvres "with a high degree of competence", investigators said.
He was also diabetic, but a post-mortem examination revealed nothing that could have contributed to the accident.