Prison nurse Yvonne Rumsey struck off over drug errors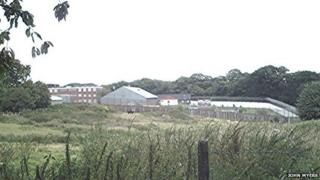 A prison nurse who made a string of medication errors has been struck off.
Yvonne Rumsey had worked at HMP Bullwood Hall near Hockley, Essex since the 1980s.
A Nursing and Midwifery Council (NMC) conduct panel found she had made a number of errors with anti-depressant and heroin substitute medications in 2011 and 2012.
Mrs Rumsey resigned from the prison service in 2012 and has now been struck off the council's register.
The NMC panel found she had wrongly given one inmate at the now shut HMP Bullwood Hall an unknown amount of the heroin substitute Buprenorphine.
She also wrongly gave a second patient, who had not been made to identify himself, an anti-depressant and then failed to give a third inmate that same medication, despite signing a chart saying it had been administered.
In striking her name from the council's register, the panel said her "actions were capable of causing harm to patients".
The conduct panel made a "conditions of practice" order on Mrs Rumsey in 2013 before suspending her in 2014.
The striking-off order will come into effect on 11 April when the existing suspension order expires.
It is understood Mrs Rumsey does not plan to return to nursing.