Tilbury docks container death: Fourth man charged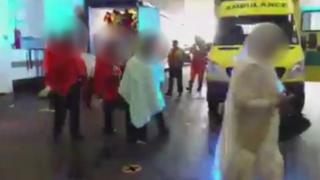 A fourth man has been charged after 35 people were discovered in a shipping container at Tilbury Docks and a 40-year-old man died.
Taha Sharif, 38, who is in custody at Wandsworth Prison, is accused of conspiracy to facilitate a breach of UK immigration law by a non-EU person.
The dead man was found in a container at the Essex docks on 16 August.
Three other men have already been charged. All four are due to appear at Basildon Crown Court in July.
Martin McGlinchey, 47, of Derryloughan Road, Coalisland, in County Tyrone, Stephen McLaughlin, 34, of Rose Park, Limavady, and Timothy Murphy, 33, of Elmgrove, Londonderry have been charged with conspiring to facilitate illegal entry into the UK.
The migrants, including 15 children, arrived in the UK on a ship from Belgium and were said by police to be victims of people trafficking.
The dead man was named as Meet Singh Kapoor, aged 40.