Colchester 'Human Shrub' vows to protect green spaces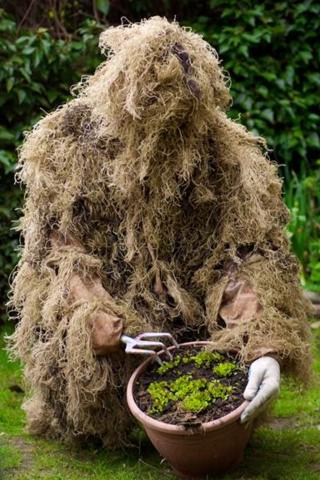 A mysterious eco-activist calling himself the Human Shrub has vowed to be "a thorn in the side of anyone" threatening Essex's green spaces.
The Colchester man, who dresses like a shrub, came to prominence in 2009 when his protest against the council turfing over roses resulted in a U-turn.
His campaigning has continued, but his identity is unknown.
BBC Essex was sent a recording, apparently from the Shrub, saying he intends to continue fighting his cause.
'Savage the shrubs'
The Human Shrub - sometimes known as Shrubby - resurfaced recently when he sent a gift to borough councillor Dave Harris, who is spearheading the council's Colchester in Bloom campaign.
"I received this muddy envelope with a letter, which said: 'Dear Mr Harris, please help these flowers grow and keep Colchester blooming, signed, the Human Shrub'."
There was about £70 worth of seeds inside including marigolds and dahlias.
"I quite like the idea he's got the Colchester community at heart and he's doing something positive in a way that enhances it."
However, the identity of the green-fingered benefactor remains a mystery.
Darius Laws, a friend of the Human Shrub, said: "He's quite a shy individual and doesn't enjoy the limelight too much."
However, he agreed to deliver a message from the Shrub to BBC Essex.
In a disguised voice recording, he said: "I was deeply saddened when the political humans on Colchester's council threatened to rip up the roses and savage the shrubs."
He praised the In Bloom campaign, adding: "My sole mission has only ever been to stop those humans who wield power from spoiling our shared environment.
"I hope they've got the message.
"Just in case they haven't, I will always remain a thorn in the side of anyone if they try to make the same mistake again."