Southend v Cambridge: Man cautioned over fans' fight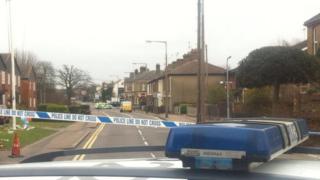 Police have cautioned a man for criminal damage after a fight broke out between rival football fans in a pub.
The 47-year-old Cambridge man accepted the caution after a fracas said to have involved about 15 people in Southend.
A 41-year-old man, from Mildenhall, Suffolk, was found with serious head injuries near the Railway Pub. Police used CS spray to break up the fight.
The pub is less than a mile from Roots Hall stadium where Southend United and Cambridge United drew 0-0 on Saturday.
A 33-year-old Southend man and a 23-year-old man from Westcliff were arrested on suspicious of grievous bodily harm and later released on police bail.
Essex Police had cordoned off East Street for forensic investigations.
Police were called to the pub at about 19:20 GMT on Saturday.
The Mildenhall man, who suffered serious head injuries in the incident, remains in hospital.