Ambulances double parked in Broomfield Hospital patient wait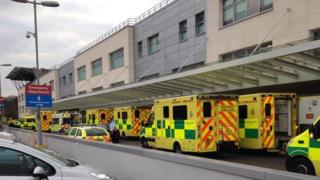 Delays at an Essex hospital left more than a dozen ambulances queuing up in two separate rows to drop off patients.
On Monday there were 13 ambulances and an ambulance car waiting outside Chelmsford's Broomfield Hospital.
The East of England Ambulance Service said the problems had affected patient care and put pressure on its crews.
Speaking 24 hours after the situation was first reported, the hospital said it had experienced "extremely high demand".
An ambulance service spokesman said: "Hospital handover delays are being experienced by crews taking patients to Broomfield Hospital and, as with all handover delays, they do have an impact on our patients and put pressure on our ambulance crews and availability to attend the next emergency.
"We are working with the hospital and other services in order to resolve the problems being experienced and to make handovers at accident and emergency as swift as possible."
A spokesman for Mid Essex Hospitals NHS Trust said: "We apologise to any patient who has waited longer than expected for care and treatment in our accident and emergency department."
The hospital said its emergency teams were dealing with 300 people a day at present compared with its 190-patient capacity.