Mountfitchet Castle hens lay eggs next to 'boar's sty'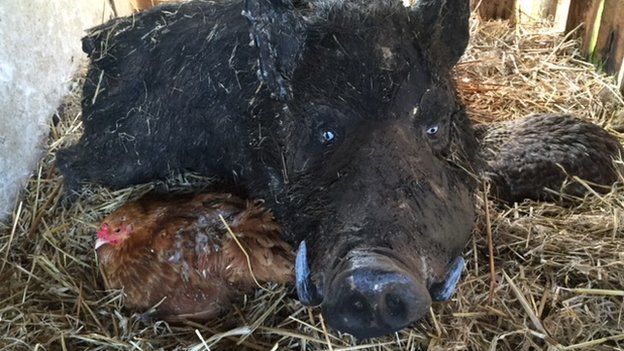 Hens living on the grounds of a castle have nested right next to a lifelike replica boar.
The boar - which has a moving head - is one of a number of animated replica creatures at Mountfitchet Castle.
But staff at the castle, an open air museum, were surprised to find two nests had been created next to the arc of his belly.
Owner Jeremy Goldsmith said 26 eggs had been laid so far by the hens nesting there.
The sight of the hens and the boar have stunned some visitors because, says Mr Goldsmith, "it is not immediately obvious which animals are real and which are not".
He said it was possible the hens had made the nests next to the boar because it was a secluded spot with straw and for a sense of protection from the replica.
Related Internet Links
The BBC is not responsible for the content of external sites.