Essex girls win US Finals cheerleading title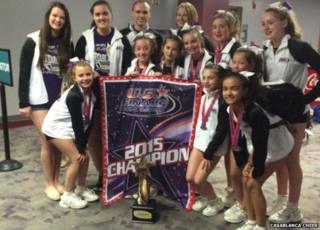 A cheerleading coach has said "it doesn't get any better than this" after her Essex troupe went to an American competition and won.
Loughton-based Cassablanca Cheer sent its Gravity group - made up of nine to 14-year-olds - to the US Finals contest in Florida.
They won the small junior level two cheerleading division.
Coach Carli Bacon said: "We've come to the home of cheerleading not expecting to win and we've gone and done it."
She said competition faced by the nine-strong troupe was "very fierce".
"For us, this is the biggest thing by far. It doesn't get any better than this."
The group returns to the UK on Wednesday.