Essex chief fire officer David Johnson suspended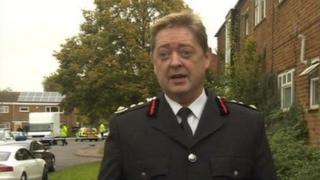 The chief fire officer for Essex has been suspended "pending an internal investigation".
David Johnson has been on long-term leave since June, but had been due to return to work.
The fire service and Essex Fire Authority have both refused to state the grounds for the suspension.
A Fire Brigades Union (FBU) spokesman said he was "not surprised" by the announcement.
Tony Hedley, chairman of the fire authority, said: "At this stage, I can offer no further comment to allow due process to take place.
"It should be remembered that suspension is a neutral act."
Mr Johnson has had the top job at the fire service since 2005.
Members of the FBU took strike action in March over call centre shift patterns and in 2012 there was another walkout over crewing of appliances.
'More uncertainty'
Alan Chin-Shaw, secretary of the Essex branch of the FBU, said he was "not surprised - it's just another catastrophic event from Essex County Fire & Rescue Service".
"Over the last few years we've had two trade disputes that have been totally avoidable, the complete collapse of a brand new mobilising system, we've had the [now retired] deputy chief fire officer [Gordon Hunter] being suspended and it seems to be part of the day-to-day running of the service," he said.
"It's just more uncertainty, but it seems no-one is exempt from the disciplinary processes within the brigade.
"I hope he's dealt with in the appropriate manner and in line with the service's policies and the Acas [Advisory, Conciliation and Arbitration Service] Code, which is something not all my members are afforded."
The fire service said acting chief fire officer Adam Eckley would continue in his post.