Mountfitchet Castle chicks hatch in 'boar's sty'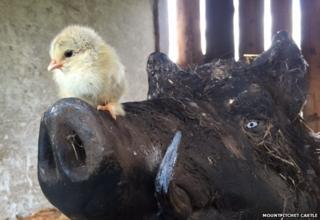 A castle has welcomed 20 chicks to its grounds after hens nested next to a lifelike replica boar.
The boar - which has a moving head - is one of a number of animated replica creatures at Mountfitchet Castle.
Staff at the site, an open air museum, were surprised to find two nests had been created next to the arc of its belly.
Owner Jeremy Goldsmith said seeing the hatched chicks on Thursday morning had been a "lovely surprise" for staff.
He said it remained unclear why the hens had made the nests next to the boar, though it was likely they chose it because it was a secluded spot with straw, and perhaps for a sense of protection from the replica animal
The chicks have been seen playing on top of the boar's back and head.