Essex Police football team help in A12 car blaze rescue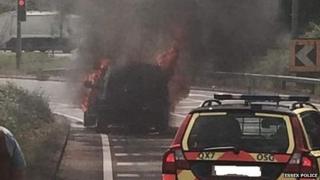 A team of flip-flop-wearing police footballers came to the aid of a group of travellers whose car caught fire.
The officers were returning from a police world cup tournament in Mallorca when they spotted the vehicle on the A12 slip road near Howe Green, Essex.
They pulled the driver of the Mercedes Benz out of the way shortly before the car burst into flames. No-one was hurt.
Although they were defeated in the tournament, they won best mascot with an officer dressed as a bumblebee.
The seven Essex Police officers were travelling back from Stansted Airport in a minibus when they spotted the car on Tuesday at about 13:20 BST.
They asked their driver to pull over and block the road.
Although the car's three occupants were standing near the vehicle, the driver attempted to get back in and had to be pulled away by the officers, who were still dressed in flip-flops and shorts.
PC James Stewart said: "As soon as we pulled them all away to a safe distance the car burst into flames and the windows blew out, which would have caused serious injury to anyone nearby.
"Vehicles passing would have also been damaged and drivers injured."
The fire was so intense there was damage to the road, which was not cleared until after 17:30.
The police team was one of 92 taking part in the tournament. They were defeated in the second group stage by a Dutch team.