Street preacher given compensation over 'wrongful arrest'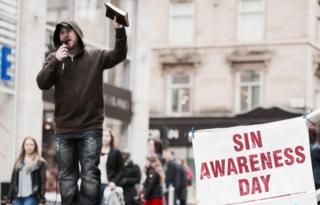 A Christian street preacher has been awarded £2,500 in compensation after claiming he was wrongfully arrested.
Robert Hughes, 38, was detained in Basildon, Essex, in September 2013 after a passer-by accused him of using homophobic and offensive language.
He was in custody for 11 hours but not charged due to lack of evidence.
Essex Police confirmed it had reached an out-of-court settlement with Mr Hughes but was not willing to comment further.
Mr Hughes, who records all of his preaching, was arrested on suspicion of committing a public order offence after a woman reported him to police.
"I didn't even bring up homosexuality, or sexuality. I know not to go there," he told BBC Essex.
"The time in the cell was a bit unnerving. And for about a week or two after the event, I was affected by it. The whole thing was unsettling."
Mr Hughes was given compensation and a contribution towards his legal fees for wrongful arrest, false imprisonment and breach of his human rights.