Eystna Blunnie inquest reopens following family campaign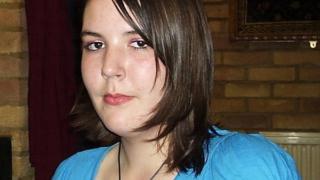 An inquest into the death of a pregnant woman who was murdered by her former fiancé has reopened after a campaign by her family.
Eystna Blunnie, 20, was killed on 27 June 2012 by Tony McLernon, who in March 2013 was given a life sentence.
After kicking and stamping on her, he left Ms Blunnie for dead in the middle of a road in Harlow, Essex. Their unborn baby did not survive the attack.
Her family wanted the reopening of the inquest due to "unanswered questions".
While an inquest was opened and adjourned a few days after her death, the coroner decided a full hearing should not take place following McLernon's conviction.
Under cross-examination, Det Chief Insp Martin Passmore, who headed the murder inquiry for Essex Police, confirmed his force was aware of McLernon's record of domestic violence with previous partners.
The inquest also heard that officers had been called out to the couple several times in the months before her death.
One one occasion, Miss Blunnie had red marks on her arm but told officers she did not believe she was the victim of a crime and did not want her fiancé to be arrested.
No further action was taken, the court heard.
Coroner Eleanor McGann told the jury that Miss Blunnie was unlawfully killed and that they must come to the same conclusion as the court did in May 2013.
Jurors can, however, expand on the original verdict.
The inquest, in Chelmsford, is expected to last three weeks.