Police officer breaks down at Eystna Blunnie inquest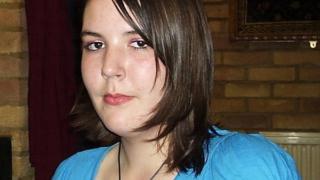 A police officer broke down when she admitted the police response had been "inadequate" dealing with a pregnant woman who was later murdered by her former partner.
Eystna Blunnie, 20, and her unborn child were killed in June 2012 by Tony McLernon, who was jailed for life.
Det Con Amanda Staples was asked by the family's legal representative if the response had been inadequate.
She tearfully responded: "I have to say yes, don't I?"
The domestic abuse officer said a new risk assessment should have been carried out after she received a phone call from Miss Blunnie's father.
The court heard that she took the call from Kevin Blunnie six months before his daughter's death.
He told her that she had "gone back to Tony" and that "he has some hold over her, more than her being pregnant".
However, the inquest was told that no action was taken because a crime had not been committed and Miss Blunnie was not regarded as being in immediate danger.
Matthew Gold, acting for the Blunnie family, asked her: "Should there have been a new or fresh risk assessment?"
DC Staples replied: "Looking at this in front of me, in the cold light of day, yes another risk assessment should have been done."
The court also heard from PC Gary Spinks, who was working at Harlow Police Station when Miss Blunnie came in to report a domestic violence assault two months before she died.
The couple had been arguing because McLernon did not think their unborn child was his, and he had said: "I'm going to stab her. I'm going to kill her."
She had "visible injuries to her right hand, light bruising to the side of her neck and a bruise to the bridge of her nose," the police officer told the court.
McLernon was arrested after Miss Blunnie made the statement and she was reclassified as "high risk".
The inquest, in Chelmsford, is expected to last three weeks.