Mother of Eystna Blunnie tells inquest about bruises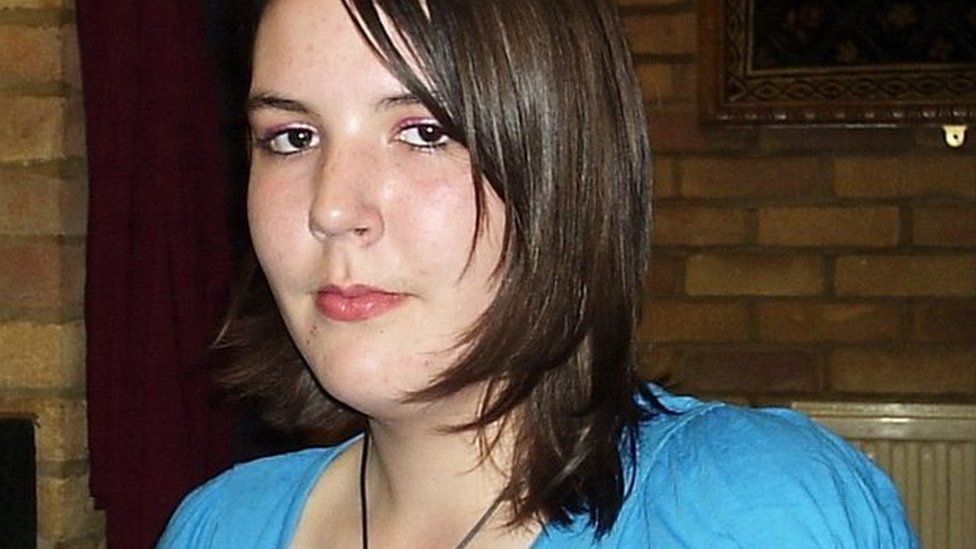 The mother of a pregnant woman murdered by her former partner told an inquest she noticed her daughter had suspicious injuries in the months before she died.
He left her for dead in the middle of a road in Harlow, Essex. Their unborn baby did not survive the attack.
The reopening of the inquest was secured by the Blunnie family, who say they have unanswered questions.
Susan Mitchell, who arrived at Chelmsford Coroner's Court carrying a teddy bear in memory of her unborn grandchild, said that her daughter was "lovely and bubbly" before she got involved with McLernon.
"She was family orientated, and enjoyed having fun with her nieces and nephews. She was helpful, considerate, worried about everyone but herself," she told the jury.
But she became "distant" and "unreliable" after she moved in with him in August 2011. She went to see her mother at work a month later, looking "terrible, dirty and dishevelled."
"I told her she needed to have a bath. She was wearing the same clothes she had on the day she left. This was very unlike her... I tried to talk to her. She just said 'you don't understand, and will never understand'. I asked her to come home, I was very worried. But she's an adult, I couldn't tell her what to do," Mrs Mitchell said.
In October 2011, her brother saw her looking "extremely upset" in a doctor's surgery and took her back to the family home, where her mother noticed a bruise.
"She said she couldn't take it anymore. The arguments, the rows. I noticed a bruise on her upper right arm. A big, substantial bruise. She said they'd been play fighting. I asked if she was sure. She said 'honestly, mum. We were play fighting'," Mrs Mitchell said.
The court heard that Ms Blunnie also had scratches on her chest, but made excuses as to why they were there.
The inquest is expected to last for another week.
Related Internet Links
The BBC is not responsible for the content of external sites.