Chelmsford Prison violence festered before riot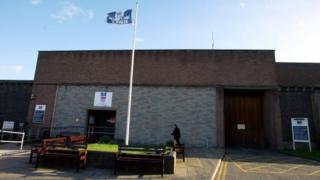 Violence had been festering at an Essex prison for months before a riot that left six members of staff needing hospital treatment, a report reveals.
Twenty prisoners were involved in fights on 2 December at HMP Chelmsford.
The Independent Monitoring Board (IMB) said in an annual report covering 1 September 2014 to 31 August 2015 incidents of violence and prisoners self-harming had increased.
The Prison Service said it "took a zero-tolerance approach to violence".
The IMB said Chelmsford had seen a 25% cut in the number of prison officers and many experienced staff had left.
New recruits "lacked practical experience", its report said.
"Officers on detachment from other establishments are unlikely to have been as effective as the officers that they replaced.
"There was a noticeable increase in levels of violence within the prison," the board said.
Concerns about medication
A Prison Service spokesperson said: "We always ensure prisons have safe staffing levels. We have responded to recent pressures by recruiting 2,340 prison officers nationally over the last 12 months.
"We take a zero-tolerance approach to violence in prisons. Prisoners who are violent face having extra time added to their sentence."
The IMB also expressed concern about the "about the ability of the health providers - Care UK, to recruit and retain sufficient numbers of doctors and nursing staff".
"There have been occasions when they have failed to provide the doctor and nursing cover which in our view is unacceptable."
They also expressed concerns about cuts to funding for a mental health and counselling service and discrepancies over dispensing medication.
A Care UK spokesperson said: "We have made progress in increasing the number of permanent nurses and have worked hard to reduce the use of agency staff.
"We have a consistent team of doctors working in the prison.
"We make every effort to confirm which medications are being received in the community when people come into prison so that we can continue them."