Essex man names his baby after ex-PM Margaret Thatcher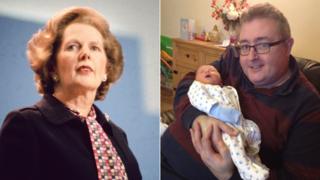 A Conservative councillor has named his baby son after the former Prime Minister Margaret Thatcher because he "wanted a name that stood out".
Rob Gledhill, of Thurrock council, and his partner Abbie Maguire called the baby Thatcher Stephen Maguire, Your Thurrock first reported.
Mr Gledhill said: "We're happy with it and if he's not happy with it when he's older I'm sure he'll change it."
Asked if it was a political statement, he told BBC Essex: "No, not at all."
Read more on this and other stories from Essex here
'Another great Thatcher'
"What's the difference between Tyler or Harper and Thatcher?" said Mr Gledhill, leader of the Tory group at the council.
Asked if he was worried about the reaction of other children when his son, born on 8 January, reaches school age, Mr Gledhill said: "How many children at the age of five are going to say 'oh you're named after the first female prime minister - the one who gave everybody the ability to buy their council house or re-took the Falklands?'.
"I come from a family of quite diverse political views.
"If he does become leader of a political party let it be, it'll be another great Thatcher running the country."
---
Strange name choices?
A number of children bear the names of their parents' favourite football team players, but this didn't sit well with one boy named after the entire 1992 Leeds United side. He grew up to be an Arsenal fan according for the Daily Star
There are quite a few Kosovan Albanian Tony Blairs - or Tonibler - as it is spelt in Albanian. The politician was revered by refugees for encouraging Nato intervention to drive back Serbian forces in the late 90s
Chicago rapper Chief Keef named his son "Sno Filmon Dot Com Cozart" after his record label, to promote a new album, the Independent reported
A lifelong Millwall fan from Bermondsey, named his son Bermondsey Millwall Den Bloomfield - without telling his wife, the Mirror said
Celebrities are well-known for choosing unusual names for their offspring. Singer Frank Zappa's daughter is called Moon Unit and actor Sylvester Stallone named his boy Sage Moonblood
Some parents are such celebrity fans they name their children after their favourites. According to Australian website Kidspot, one mother named her daughter Britney Shakira Beyonce. It is perhaps preferable to the children christened Orgasm and Phelony
---