St Osyth medieval prison marketed at 'paranormal industry'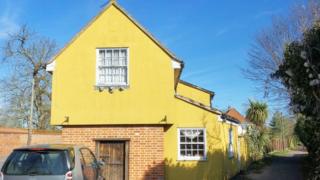 A former medieval prison is being marketed to "someone connected to the paranormal industry" after failing to attract conventional buyers.
"The Cage" in St Osyth, Essex, saw a woman imprisoned as a witch in 1582.
The current owner said she experienced "hostile and active" haunting in the property, which is priced at £290,000 and has been for sale for six months.
Estate agents Lawrence Antony Homes said the house was "set up to accommodate a paranormal business".
"We believe the ideal purchaser for this property would be someone connected to the paranormal industry," the agency said.
A plaque outside the house states St Osyth resident Ursula Kemp was imprisoned there before being hanged as a witch in 1582. She was the first of 14 women from the town to be executed after being convicted of being witches.
Owner Vanessa Mitchell, 43, said she would not consider selling the house to a family with children as it was "too dangerous".
She said she decided to put the property, which she has owned for 10 years, up for sale after being "physically attacked and seeing ghosts every day".
"It's so haunted I don't know what more I can do, and it's time for someone to own it who can do more with it than me," she told the BBC.
The site is regularly visited by paranormal groups and can be hired for overnight investigations.
Ms Mitchell said she was considering putting the house up for auction "in the spring" if no interested parties came forward.