Southend tourists wrongly accused of being paedophiles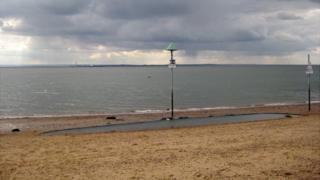 Police were called after a group of tourists taking pictures of a seafront were accused of being paedophiles.
Essex Police were called to Marine Parade in Southend on Friday after members of the public confronted and detained three Greek tourists.
The incident flared after a group confronted the men because some children happened to be in the images.
A police spokesman said officers looked at the images and no offence was found to have been committed.
It is understood the images had been taken near some fountains.
A number of posts were later made on social media making allegations against the three men, that were shared thousands of times.
'Witch-hunt'
Martin Richardson, from the Happidrome Arcade, saw what happened.
"There was some shouting and hollering which seemed to develop. We saw a police car pull up. We thought nothing of it," he said.
He said while the initial incident seemed to have been dealt with, posts subsequently on Facebook were "disgusting".
"It is a witch-hunt, with words being used riling people's aggression and feelings up over something I feel was blown totally out of proportion," he said.
Tink Palmer, chief executive of the Marie Collins Foundation, a UK charity that supports children who suffer sexual abuse and exploitation via internet and mobile technologies, said it was good adults had voiced concerns about photography around children but said the later posts were a misuse of social media.