Grooming arrest suspect 'took his own life', coroner rules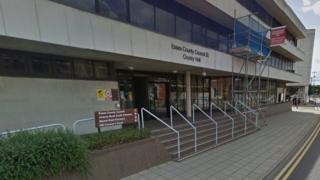 A man took his own life after a video of him being confronted by a self-proclaimed "paedophile hunter" was posted on social media.
Essex coroner Eleanor McGann recorded a verdict of suicide in the death of Terry Hurford, 44, of Harlow.
Mr Hurford was arrested on suspicion of grooming last month and was found dead after being released on police bail.
Mrs McGann said it was "a deliberate act and he was intending to die" as he had left notes and self-harmed before.
In the days leading up to his death, he had been filmed by Christopher Wood, from Essex, and the video posted on Facebook. It was removed after Mr Hurford died.
Essex Police viewed the material, arrested Mr Hurford on 28 May then released him on bail, before he was found dead at his home by a friend three days later.
Chelmsford Coroner's Court heard an informal will and hand-written letters were found in Mr Hurford's house addressed to his children, his wife - from whom he had separated - and his friends.
He wrote to his estranged wife that his death would not be a surprise, telling her "I cannot face this life any more", while to friends he wrote of a void and feeling "so alone".
The force referred the incident to the Independent Police Complaints Commission because they had contact with Mr Hurford before he died.
It said it has now closed its investigation and has handed the matter back to the police.