Hundreds march against Colchester road changes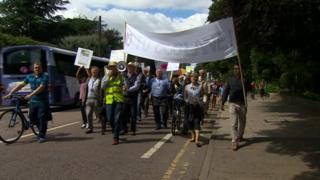 Hundreds of protesters turned out to campaign against a proposed "highly dangerous" bus lane in Essex.
The county council wants to create the bus lane in Lexden Road, Colchester, where the county hospital and a number of schools are situated.
Protest organiser Ray Wright said: "Everybody is opposed, we have about 400 people. It has surprised even me."
The council said in a statement: "No decisions have been made about the Lexden Road corridor."
It said that its plans for the bus lane, combined with a cycle lane on the pavement, will speed up journeys for up to a million passengers a year.
But Mr Wright, who lives on the road, said 2,000 people have signed petitions in a bid to scrap the proposal.
"The difficulty is they want to take half the pavement on the east side and it is used by 4,500 children every day," Mr Wright said during Saturday's march.
"We are protesting that we think this is highly dangerous."
Essex County Council said it recently held an information meeting with residents and received "helpful feedback".
It said in its statement: "Detailed plans and options are being drawn up by officers and these will be reviewed by the cabinet member in due course.
"It is hoped that a decision in principle on the county council's preferred scheme options will be made by the end of July."
It added that any decisions will go to consultation.