Clacton Airshow caravan ban bid rejected by High Court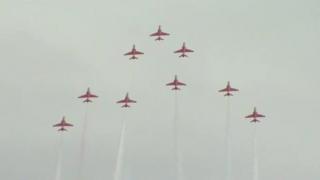 A bid to ban caravans from the seafront at Clacton Airshow over concerns of a Nice-style terror attack has been refused by the High Court.
Tendring District Council said there were "national security" reasons why live-in vehicles should be banned during the event later this month.
But Mr Justice Knowles threw out the application.
He said the council had only raised "public safety" as a reason for the ban as an afterthought.
The main justification was to control parking and keep travellers' vehicles out of the area during the show, he said.
The council is considering appealing the decision.
'Particularly directed'
The court heard organisers of the show have in the past encountered problems with campervans, caravans and mobile homes clogging seafront streets.
Injunctions had been granted every year since 2013 and been "a very effective deterrent" to unauthorised encampments during the airshow, which attracts 200,000 visitors.
Both councils said they "dealt with travellers consistently and fairly across Essex" and full consideration was given to their equality and human rights.
However, the judge said the injunction sought would be "particularly directed" at travellers and would impact on them more than others.
There were other methods of controlling parking in the seafront area without the need for a High Court injunction, he said.
The judge added: "An application truly based on requirements for the prevention of terrorism would of course stand on a wholly different footing. But this is not such an application."
Paul Honeywood, from Tendring Council, said: "It was not the outcome we were hoping for - or expecting - and we are now speaking with our legal team about the possibility of appealing... the decision."