Bereaved Essex mother gives kidney to Basildon patient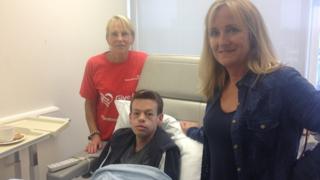 A mother whose daughter died while waiting for a double organ transplant is to give one of her kidneys to a 22-year-old also in need of a transplant.
Pat Carroll, 63, has been raising awareness of the importance of organ donation since the death of her daughter Natalie in 2014.
She has decided to donate a kidney to Joe Carmona, a patient at Basildon Hospital where Natalie was treated.
"I couldn't save Nats but this is what I want to do," she said.
Mrs Carroll, of South Ockendon, Essex, was unable to donate a kidney to her daughter as a pancreas was needed at the same time.
"I started this journey three and a half years ago and I'm basically continuing the journey that I started with Natalie," she said.
"Joe is an amazing young man. He has been dialysing for a couple of years and is wired up to a machine four times a week. With this, please God, Joe will get back his life."
'Gift of life'
Ms Carroll met Mr Carmona, who has special needs, two years ago on an outing for Basildon Hospital renal patients and relatives.
The transplant is due to take place by the end of October.
Every day across the UK about three people die, who could have benefited from a transplant, because there are not enough organ donors. A further 6,500 are currently on the waiting list.
Ms Carroll added: "My philosophy now is that we all die at some stage; why not use those organs to save someone else and give the greatest gift of all, the gift of life?"