John 'Goldfinger' Palmer murder: Police commissioner 'concerned'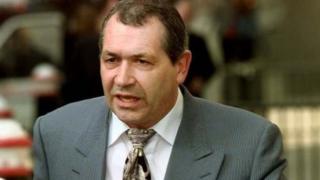 A police and crime commissioner has said he "remains concerned" at the way officers handled the fatal shooting of a notorious criminal.
John "Goldfinger" Palmer was initially thought to have died from natural causes in 2015. It took a week to establish he had been shot six times.
But an ambulance report seen by the BBC has revealed a paramedic did raise doubts about Mr Palmer's injuries.
Essex Police said two officers had since been disciplined.
The ambulance document, released to the BBC under the Freedom of Information Act, said despite a paramedic raising doubts as to whether Mr Palmer's wounds were from recent keyhole surgery, the police officers at the scene were "not concerned".
The report also revealed those at the scene were aware Mr Palmer had multiple wounds, that Mr Palmer's own son was "unsure" whether the wounds were related to surgery and that when police inspected the body they found "another similar wound on the patient's back".
Roger Hirst, the Police and Crime Commissioner for Essex, said: "I have been briefed about this case and remain concerned about the circumstances and it is clear that the police response at the time was unsatisfactory.
"I look forward to reading the ambulance service's internal investigation into their response.
"I understand this case is still open and, of course, as such it is an operational police matter in which I regret I cannot get involved."
In a statement, Essex Police said its officers were "given information that Mr Palmer had recently had surgery and that this could account for his injuries.
"However, they did not carry out a full examination of the body, which would likely have raised suspicions about his injuries.
"They also did not call an inspector to the scene to confirm their assessment, or check Mr Palmer's antecedents on the police national computer."
Palmer - once described as Britain's richest criminal and thought to have been worth £300m - got his nickname after he was arrested on suspicion of melting down gold from the Brink's-Mat robbery, although he was never convicted.
The Brink's-Mat robbery in 1983 took place at Heathrow Airport, when £25m worth of gold was stolen. At the time it was the biggest robbery to have ever taken place in the UK.