Essex road workers' CCTV captures cat pursuing rat in tunnel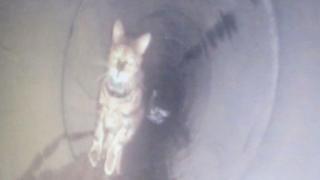 A real-life game of "cat and mouse" has been captured on camera by road workers installing a drainage tunnel.
They sent a camera down to check all was well with their work and saw a cat chasing a large rat.
Highways England site supervisor Jason Appleton said it was the first time their cameras had picked up "an intrepid moggy in hot pursuit".
The rat escaped and the cat was later seen exiting the tunnel, which is by the A120 at Wix in Essex.
Mr Appleton said: "It was like an episode of Tom and Jerry live".
The tunnel was been constructed as part of a £5.98m package of maintenance work across the A12 and A120.