Burglary suspect asleep in car in Colchester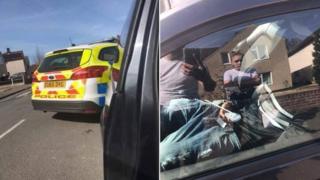 A suspected burglar who was being hunted by police was fast asleep in a man's car.
Carl Mason was about to take his girlfriend Abbie home on Sunday when she noticed a man in the car in Defoe Crescent, Colchester.
Mr Mason and his father opened the door and asked the man what he was doing there.
"He opened his eyes, closed the door and went back to sleep," said Mr Mason, who called the police.
For more on this and other Essex stories
"It was crazy," said Mr Mason.
"He was in the passenger seat so I knocked on the window. He was out of it.
"He was in the car for about an hour.
"The police said they had been looking for him all morning. They said he had been on day release for good behaviour."
Essex Police confirmed the incident and said a 20-year-old man had been arrested and charged with using violence to secure entry and assault following a separate incident.