Braintree fire deaths of Alina and Emilia Kordaszewska accidental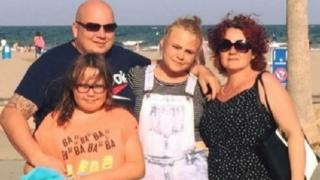 A house fire which killed a mother and daughter was an accident, an inquest has concluded.
Alina Kordaszewska, 41, and 11-year-old Emilia died in an upstairs room in the fire in South Street, Braintree, on 21 December.
The fire was started by a candle. Post mortem tests revealed the victims died as a result of "smoke inhalation".
Essex coroner Caroline Beasley Murray described the mother and daughter as "much-loved".
Two other women - believed to be the family's other daughter Milena, 18, and her aunt, Isabela Czaplinda - managed to get out of the property before the fire service arrived, it was reported at the time.
Emilia attended Notley High School in Braintree. Her mother worked at CommScope in Braintree, a communications company.